I've decided to go out on a limb in 2016 and start my own business. Yes, my very own baby! It definitely wasn't an overnight decision and was something i've been wanting to do for sometime that i've kept to myself. The idea for the store came with the want for a Silhouette Cameo came to me.
If your not familiar with the Silhouette machines it's definitely worth checking out. I wanted the machine more for Project Life but couldn't justify the $199 price tag. Then it came to me.. I spend all this money on stickers and stamps for my planner why not make my own? I crunched some numbers and thought that it might actually be possible to make my money back! My hope is to make enough to  balance the cost of the machine. I figure if I haven't made back the money i've spent on the initial investment by the end of the year, then the venture may not be worth it.
So.. let's keep it real.. when i ordered the machine I actually spent about double what I was expecting to spend. Oops, lol. I found an intro package that had a bunch of accessories I felt were important. Better to have it instead of getting stuck when I need it. At some point I would love to do a review of the tools. As a newbie it's been essential having most of them if not all of them (amen for the scraper).
I opened my Etsy store on January 24th, 2016 and so far i've had TWO SALES! Sounds exciting but one was my partner and the other was my best friend from high school, lol. I will take it though! It's a start. I've done a lot of research on Etsy and how the site works so i'm hoping that the sales being to boost my store within their site.
Currently my main focus is going to be Planner Stickers. Mainly in the Icon style format. I've branched out a tiny bit with Hello Kitty and Inkwell Press inspired designs. My goal is to get into vinyl and expand my options a bit more. Below is an example of one of my sets, titled #ADMINPROBLEMS.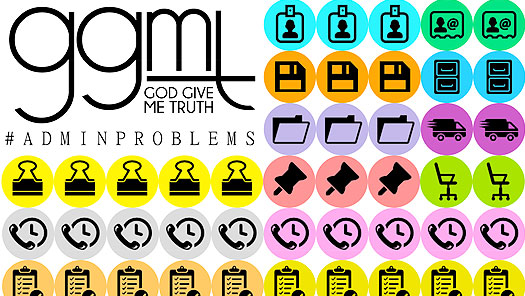 I haven't been active enough on my blog in years. Ugh.. the struggle is real, lol. I feel like it's never had a purpose outside of my fanlistings so i'm excited to see what this adventure hold for me and the brand new God Give Me Truth.
I would love for anyone interested to a place an order. Between now and August 16, 2016 I am offering a 25% discount to anyone that visit's my site here and places an order. Just use code WEBSITE25!