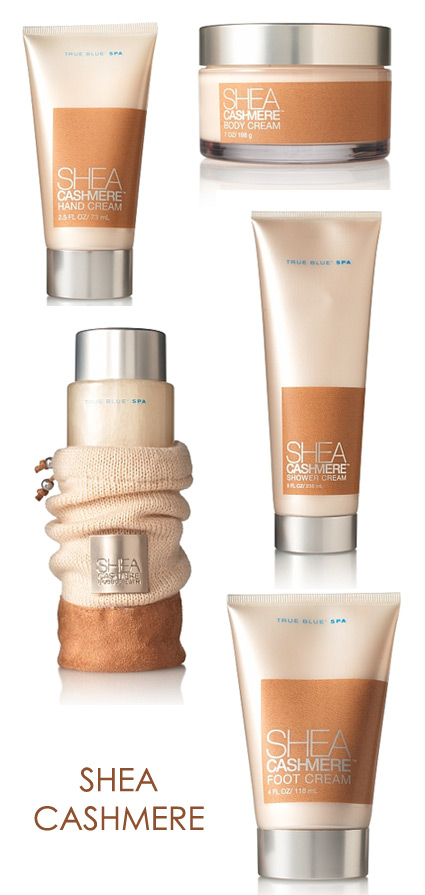 THIS PRODUCT CAN BE PURCHASED HERE!
I have been using this product for almost a month now and I ♥ this product! I have very sensitive skin. I have to be careful with the products that I use (especially through the winter) because I could easily end up with horrible batches of dry skin and eczema break outs on my arms and legs.
I have been using the majority of this product line. The hand cream, body cream, and shower cream are my favorites. I don't have a bath so I have been unable to use the bath bubbles and the Body & Body stores around me don't sell the foot cream.
The product is described as the following…
"Wrap yourself in cashmere. This ultra-moisturizing body lotion is infused with soothing cashmere extract and rich shea butter to leave skin supremely silky. The perfect everyday luxury, it absorbs quickly to nourish head to toe, leaving skin addictively soft and lightly fragranced with a creamy vanilla scent that's both fresh and comforting.
Revolutionary spa formula combines rich, moisturizing African shea butter with luxurious cashmere extract to envelop skin in supreme silky softness. Absorbs instantly to nourish skin and deeply hydrate with no after-feel
Creamy vanilla fragrance evokes warm, soft, luxurious comfort * Not tested on animals"
I agree with everything this product says that it offers. It all starts with a luxurious smell of vanilla and almonds. The hand cream is ultra moisturizing and its great to carry in my bag. It lasts for hours at a time so there is no need to reapply continuously. The body cream is great for hands, feet, elbows and knees. I have had dry knees and elbows my entire life and this the first time I haven't had ashy skin <b>EVER</b>!
I also love the fact that I put the body lotion on in the evening and I wake up to the great scent in the early morning. At the same time its not so overpowering that i'm smelling it throughout the day because I do prefer colognes/perfumes daily.
This is a great product for the winter that I recommend for anybody!