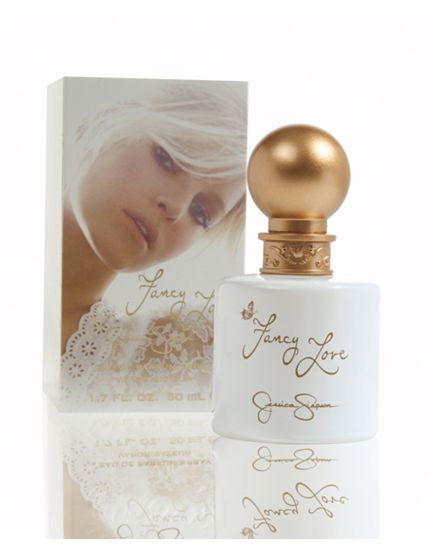 I know that I am only 23, but I have been looking for "MY SCENT" for a VERY LONG time! In December of 2009 I found that scent in Jessica's Simpson second perfume, Fancy Love. It is played as "the timeless fragrance of falling in love."
Top notes: Playful and sparkling, the fragrance opens with a rich radiance of Peach Blossom, Bergamot and the delicate Goij Leaf, wrapped in a celebration of Pink Champagne.
Heart notes: A captivating bouquet of blossoms forms the heart of this fragrance that deepens with the seductive blend of Lotus, Peony, Plumeria, Jasmine and Turkish Rose.
Base notes: The depth of this fragrance bursts with creamy Amber and Blonde Woods while sensual Musk and Patchouli create a loving and long lasting trail.
This seems odd reading all of the scents it lists above, but I smell somewhat of a vanilla undertone. I have always been a HUGE vanilla fan so that is the main reason why I first made this purchase (that and my love for Jessica Simpson). I love the subtle mix of peach (and other fruits) as well as the champagne like after-scent it leaves behind. I have never been a fan of flowery scents or musky scents but do love the over-all mix that this perfume provides. And, the scent seems to last for HOURS!
Call me crazy.. but.. I saw an interview I believe with Britney Spears many years ago. In the interview Britney was talking about how everybody should have a signature scent. That one scent that when everybody smells it.. they think of you!
I am on my 4th bottle of this perfume and I have 3 unopened bottles waiting for me. I go back and forth from buying this in Macy's ($59), to Ebay ($34.99), to even China town New York ($30) depending on how much money I currently have. When I find a good deal at either place I generally try to throw in a little extra and stock up.
The one plus when buying at Macy's is you get the $30 bottle of matching lotion for free. I LOVE the lotion as well. I have always been a Bath & Body Works lotion user until this lotion came out. It is great for treating dry spots and dry hands. Add a bit on your hand throughout the day and keep your scent. Because the lotion is so expensive I do not use it on my body, just my arms, hands, and neck.
THIS PRODUCT CAN BE PURCHASED HERE!