Manufacturer: Laura Mercier
Purchased At: Sephora
Price Point: $34.00 (us)
Overall Rating: ♣ ♣ ♣ ♣ ♣
A silky, sheer setting powder  infused with the finest French cashmere talc, this powder looks and feels natural. A unique light-reflecting ingredient creates a "soft-focus" appearance that smoothes fine lines and imperfections as it sets your makeup.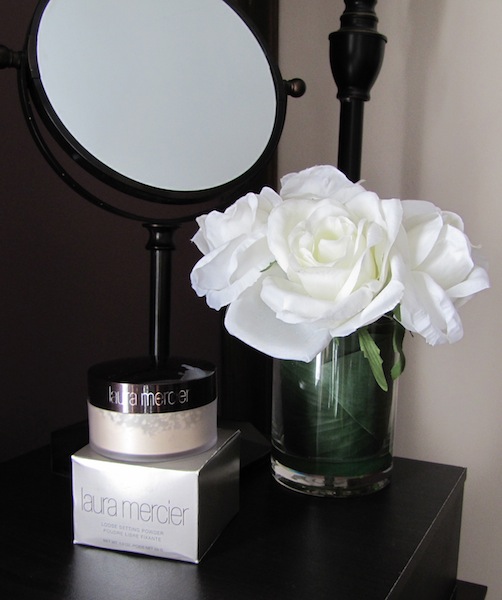 // container set upon packaging //
PACKAGING IMPRESSIONS: Overall, I feel that the packaging is great.  The outer box that the powder comes in is very chic. Its a light gray packaging that features a plain font and carries that traditional Laura Mercier logo. I do apologize that my box is dented, it was my only casualty in the review process

The jar is a clear semi-frosted jar that features a top and bottom that are a purple/pink shade. The top has a shiny surface that does tend to grab onto fingerprints
The one thing that I am not a fan of in regards to the packaging is the lack of detail about the product. The majority of Laura Mercier products name the product, give a quick summary of what the product does (in one to two lines) and thats it. I for one enjoy a lot of information on the product especially when there are no store clerks available for assistance.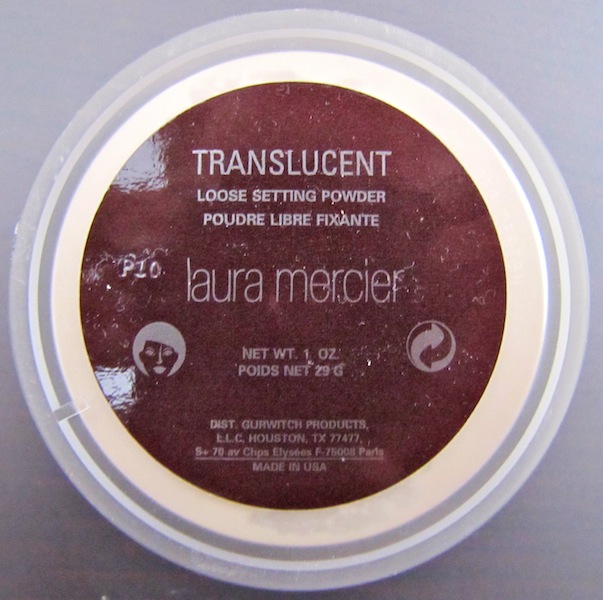 // bottom of container //
APPLICATION OF PRODUCT: Application of this powder was very nice. I tried application with MAC's 150 brush as well as Sigma's F30 brush first. In essence, both of these brushes are the same but application was flawless with both brushes. I also applied this product with Bare Escentuals Flawless Application brush. Although application was just okay with the BE brush it wasn't great. Being a man I do have a bit of stubble even after staging and the BE brush seemed to deposit the powder right on the stubble thus making it look a bit more powdery than application with the other brushes.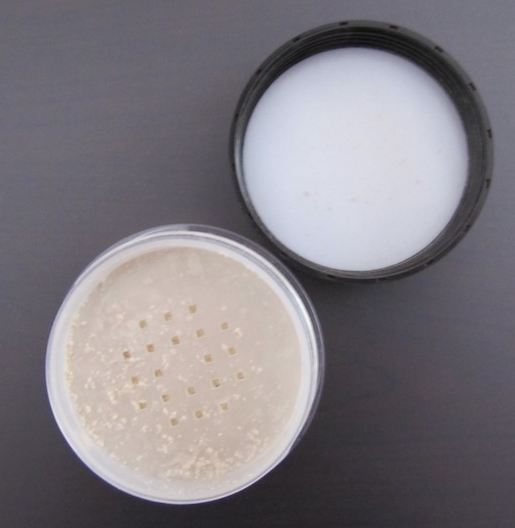 // view of sifter //
TEXTURE/CONSISTENCY: The texture of this product does seem to be a bit lighter than other setting powders that I have found. I would compare the texture, oddly enough, to that of baby powder. Very lightly, airer, and tends to feel very fresh upon the kin.
CLAIM WORTHY: Sephora claims the that this product offers "A unique light-reflecting ingredient creates a "soft-focus" appearance that smoothes fine lines and imperfections as it sets your makeup". I am always very skeptical when it comes to bold claims that can at times be hard to understand what exactly is being claimed. Now, I paired this setting powder with my Laura Mercier Silk Creme Foundation (which I want to review after more trials) and I do believe that my face did have a "soft-focus" appearance. I do believe that the foundation worked hand-in-hand with the powder to create this affect. I would compare the "soft-focus" appearance to an air brushed looked and that I do believe it provides.
OVERALL PRODUCT: Over the past year or so I have tried many setting powders. Most notably I have tried MAC's Prep + Prime setting powder, MAC's Mineralize Skinfinish Natural, Bare Escentuals Mineral Veil, and I also had a brief stint with Makeup Forevers HD Powder. All of them great powders but still seem to be a step below Laura Mercier. I have combination skin that tends to be a bit more oily in humid weather and controlling oil to prevent breakouts is big for me. I apply my makeup about 7:30 am and with most products I have to blot by 10:00 am and reapply around 1:00 pm. Not with this.. I have no need to blot until around 12:00 pm and generally never have a need to reapply.
I did choose not to swatch this product as of yet. The reason being that it is a transparent setting powder that has no color and does not just show up on the back of my hand. It ads a bit of a shine but its not meant to be warn alone. Its meant to be matched with foundation/tinted moisturizer. I will post with setting powder and without setting powder when I do the full foundation review.
Laura Mercier is the FIRST powder of all the above mentioned that I have found that go on without having that powdery after look and controls oil for hours. No need to reapply foundation or concealor. This powder lives up to every claim it makes.