I've spent the majority of my morning playing around with ARCHIVE.ORG. How freakin' cool is this site? It really takes me back to when I started graphic design, blogging and fanlistings. Some of it I thought 'oh god – how embarrassing' but then i realized how proud I am of some of that cheesy work!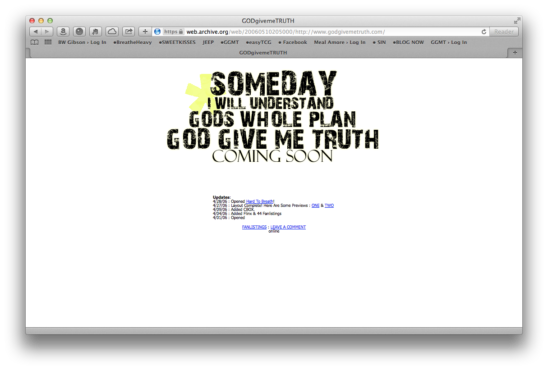 This is the first splash page for the original God Give Me Truth site. That was an original .com site that unfortunately, due to laziness, i lost. My original site in 2001 was HisWorld.Net followed by a celebrity fan site called MrLachey.Com. I've had numerous other items along the way such as a TCG, numerous fanlistings, blend sites, a Britney Spears fan site and even a couple of forums along the way. It truly has been a wild ride over the past 13 years but I don't regret any of it!
I've looked to get GGMT off for years now. Recently I had a beautiful logo created by Jenn @ Hello Brio. Excited to finally get that up and running. Business cards, updated design, who knows! Thank you to everyone that has been a part of this journey over the years. I hope that it only gets better from here!